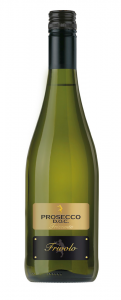 Frivolo Prosecco Frizzante£8.99
A crisp and lively dry Italian sparkler with fresh floral aromas and zingy lemon, grapefruit, pear and green apple flavours.


Baron de Marck Champagne Brut£29.99 £20.99
Unfortunately Baron de Marck Champagne has temporarily sold out. They sold all their grapes to the big name Champagne Houses (who were short on stock) instead of making their own.
Please see our similar priced alternative
From the well-respected Champagne House, Gobillard, this is an excellent entry level champagne which delivers way, way above it's price.


Orobella Spumante£8.49 £7.99
Great value, dry, Italian sparkler - tasted blind, you would say it was Prosecco!