Rising Rum
4 October 2020 | Admin
I'm still on the Gin train...Rise in Rums, really?
Yes! Over the last 5 years we have seen the Gin trend grow and grow. From your original London Dry to any whacky, weird and sometimes wonderful flavour you can think of - we even had a Brussell Sprout Gin on our shelf last Christmas! Now, as we watch Gin sales stagnate (but by all means still our leading spirit) we are watching closely as the interest for rums from our customers, especially in the spiced and flavoured category, are becoming more and more requested.
And it's not just us that have noticed this rise in interest! According to figures from the Wine and Spirit Trade Association, UK sales of spiced and flavoured rum grew by 80% between 2014 and 2019 to surpass 10 million bottles. From less than six million bottles in 2014 to more than 10m in 2019. So it comes as no surprise the off-trade industry are predicting and pushing for the 'rise of rum' this year, which has already seen us bring in some fabulous additions to our spirit shelves and will no doubt continue to grow over the coming months and year.
Ok i'm convinced, which Rum should I go for?
I hear you! Once the drink of sailors and swashbuckling pirates, rum is the most versatile — and the most varied — spirit in the world. It is consumed neat as a sipping drink, on the rocks, and in a dizzying variety of cocktails like the Mai Tai, Mojito, and Pina colada.
So which do you choose? That depends on what you want from your spirit, whether you like to taste the full flavour that a sipping rum has to offer or if you want to test the water in a cocktail style first? Or perhaps you like your spirits sweet - if that's the case a flavoured or spiced will be the route to go.
Dark rums are distinguished by their colour. They are typically aged longer, in heavy charred barrels, giving them a richer flavour. Hints of spices can be detected, along with a strong molasses or caramel overtone. If you like your spirits to be spirits, and not purified by mixer then you have found your true rum love.
Gold rums, which gain their colour from ageing in wooden barrels, are medium-bodied and can be considered a midway between light rum and the darker varieties. A solid place to start if your starting your rum journey or if you are looking for a rum gift!
Light rums, also referred to as 'silver' or 'white' rums, have very little flavour aside from a general sweetness. They are sometimes filtered after ageing to remove any colour, resulting in a milder taste and most commonly used in cocktails!
Flavoured + Spiced rums (tipped to be the most popular category this year) are infused with fruits after fermentation and distillation, while spiced rums obtain their flavours through the addition of spices, cinnamon, aniseed, pepper and sometimes, caramel. Those moving from the flavoured Gin trend and with those of a sweet tooth will undoubtably find something they will like in this category.
The most popular of our 2020 Rum additions so far has been the return of;
Langs Brothers, Banana Jamaican Rum - Think foam banana sweets, warm banana bread topped with brown sugar with subtle cinnamon and vanilla...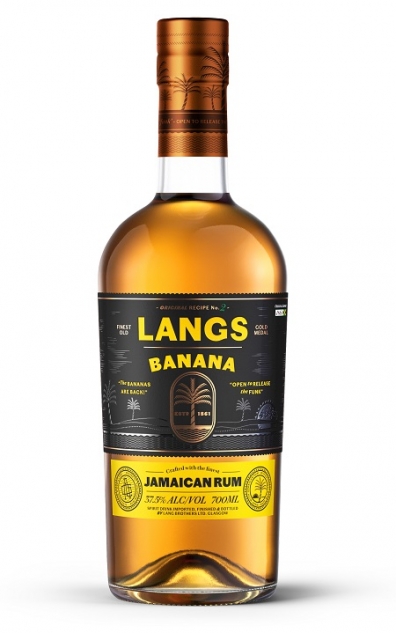 Glasgow born Langs Brothers launched the original Banana Rum in the 1860s. People loved the Langs blend of exotic ingredients and big flavour. Fast forward to 2020 and 'The Banana's are back! The never say die comeback kid rewarding tasteful drinkers with a vibrant banana flavoured rum.
Imported from Jamaica, Langs Rum is a blend of un-aged and ex-bourbon American white oak cask age Jamaican rum, packed with vanilla, caramel and tropical fruit notes. On taste there is a thick syrupy mouthfeel, followed by a big hit of sweet banana. Once the initial hit of sweet banana fades the smooth rum notes build to a fruity finish.
Tasting suggestion;
Langs Banana & Ginger

50ml Langs banana Rum
10ml Fresh lime
Add liquid to a highball filled with ice and top with ginger beer.
Garnish with a lime wheel and ginger slice.
You can buy this rum for click & collect, or delivery here.
Enjoy a touch of history with your Rum;
Black Tot Rum - Black Tot Day in 1970 ended a relationship between the British Armed Forces and their favourite drink. A relationship that resulted in the creation of one of the world's most magnificent blended rums...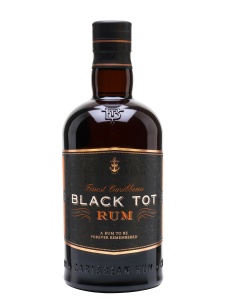 Black Tot Rum brings together spirit from different countries, cultures and traditions to create a rum that was enjoyed by the navy every day. The sailors of the of the time mourned the loss of their rum. But this loss led to society's gain, in the discovery of not only the Last Consignment of Navy rum, lying in stone flagons, but also the understanding that it gave us of the Royal Navy's lost art of blending – it was the inspiration to create Black Tot Finest Caribbean, a rum to be enjoyed by all.
Discover a perfect blend of fruity and tropical Barbados rum, rich and decadent Guyanese rums, with just a touch of Jamaica for spice and intensity. Head Blender, Oliver Chilton, has developed a recipe featuring some of the world's finest rums while creating a new and individual style. With nothing added or taken away, the final blend has been selected for its ability to allow the individual flavours of each rum to shine.
Take a closer look at Black Tot Rum here.
2019 may well have been another year of gin, but it looks likely that 2020 will see rum pulling out all the punches as spirits' new rising star. For now the question unanswered, is will you be joining us on our adventure to explore the 'Rise of Rum'? Only time will tell...